Calendar
Jul
5
Fri
2nd International Conference & Exhibition on Pharmaceutics & Advanced Drug Delivery Systems

@ Holiday Inn Paris – Marne La Vallée
Jul 5 @ 9:00 – Jul 6 @ 18:00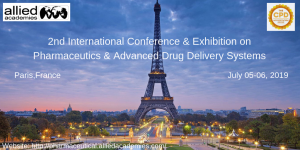 Mail: [email protected]
Event website: http://pharmaceutical.alliedacademies.com/
It is a great pleasure to invite you all to the 2nd International Conference and Exhibition on Pharmaceutics & Advanced Drug Delivery Systems going to be held during July 05-06, 2019 at Paris, France. The conference will be a gathering of Researchers, Scientists, Pharmacists, Pharmacologists, Healthcare Professionals, Academicians, Industrialists and Students from across the Globe. It is organized to enhance and exchange the knowledge on cutting-edge technologies, research and development, New therapeutics, and challenges in the field of pharmaceutical sciences and drug delivery. And the main theme of the conference is Exploring the Cutting Edge & Futuristic Technologies in Pharmaceutical Sciences and Drug Delivery Systems.
Sep
9
Mon
6th International Symposium on Phospholipids in Pharmaceutical Research

@ Chester Hotel, Heidelberg
The Phospholipid Research Center celebrates the 6th International Symposium on Phospholipids in Pharmaceutical Research on September 9 – 10, 2019 in Heidelberg, Germany. In accordance to our vision "Connecting the World of Phospholipids", we focus this year mainly on stimulating discussions between academia and industry. Phospholipids have unique properties and benefits in pharmaceutical applications, which means, that exciting presentations, conversations and awards can be expected.
Nov
11
Mon
20th Annual Pharma Middle East Congress

@ Istanbul, Turkey
We co-ordinately invite you for 20th Annual Pharma Middle East Congress which is going to be conducted in Istanbul, Turkey during November 11-12, 2019 on the theme Explore the Alliance of Pharmaceutical & Health Sciences we would like you to accept this invitation and join the conference. Visit- https://middleeast.pharmaceuticalconferences.com