Development of dexamethasone-loaded mixed polymeric micelles for nasal delivery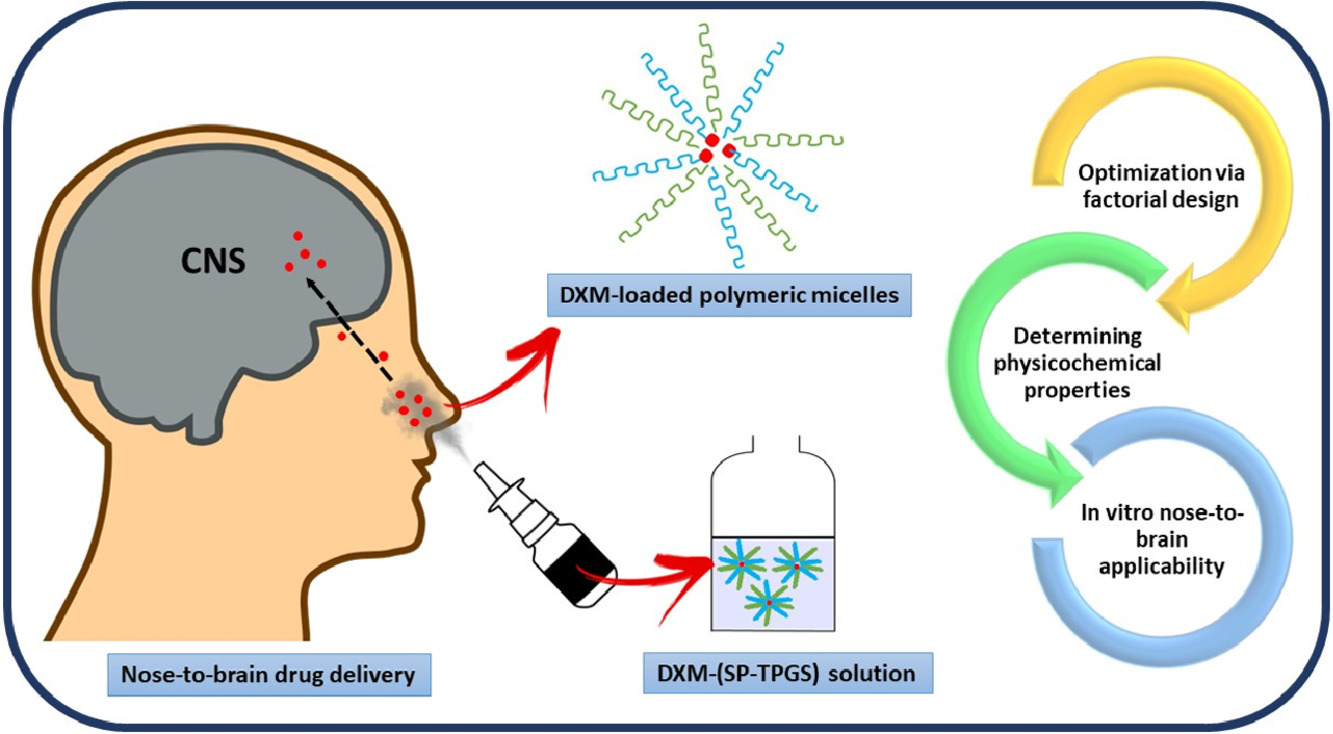 Our study aimed to formulate a novel dexamethasone (DXM)-loaded, mixed polymeric micelle-based drug delivery system, focusing on the auspicious nose-to-brain pathway, as a key delivery route to treat central nervous system (CNS) associated diseases. Polymeric micelles might be a solution to deliver drugs to the place of action compared to conventional formulations.
Highlights

The mixed micellar formulation enhanced solubility of dexamethasone.

Dexamethasone-loaded mixed micelles provided rapid drug release.

The mixed micellar formulation is applicable for the nasal administration.

The mixed micellar formulation showed higher permeability across blood-brain-barrier lipids.
Due to low Z-average (89.92 ± 2.7 nm), a polydispersity index of 0.216 ± 0.014 and high surface polarity (52.23%), a significant increase in water solubility (14-fold) was experienced. This increase resulted in favourable dissolution profile at nasal and axonal conditions with high in vitro permeability value (14.6×10−6 cm/s) on polar brain (porcine) lipid extract.
Modified Side-bi-side® type diffusion study confirmed rapid and efficient passive diffusion through the nasal mucosa contributed by strong mucoadhesive properties. The final formulation met all the requirements of a nasal drug delivery system with rapid onset of action, meaning DXM can reach the CNS and there it can exert its beneficial effects in pathological conditions.
Article information: Bence Sipos, Ildikó Csóka, Mária Budai-Szűcs, Gábor Kozma, Dániel Berkesi, Zoltán Kónya, György Tibor Balogh, Gábor Katona, Development of dexamethasone-loaded mixed polymeric micelles for nasal delivery, European Journal of Pharmaceutical Sciences, Volume 166, 2021. https://doi.org/10.1016/j.ejps.2021.105960.