Titanium dioxide free coatings – Biogrund information
For decades, titanium dioxide (TiO2) has been used as a white pigment due to its very high opacity and brightness. Therefore, it has a wide range of applications, from being a colouring ingredient of pharmaceutical film coating, to food application colouring.
On the basis of current discussions on a new classification and labelling of TiO2 and EFSA's re-evaluation of TiO2 (E171) as a food additive in the EU by EFSA, BIOGRUND is committed to offering alternatives for common film coating formulations. To address this issue, BIOGRUND has developed alternatives to replace titanium dioxide in existing film coating systems.
AquaPolish®, formulated without TiO2, provides a comparable white film coating for oral solid
dosage forms. Differences to the use of titanium dioxide are not apparent to the eye. The opacity is similar even when used on dark tablet cores.
If required, colored film coating systems can be developed or replaced by a TiO2-free version. According to customer requirements, light-stable natural pigments can be used in the formulation when synthetic colors and iron oxides are not allowed.
---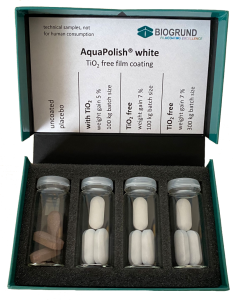 This sample box presents an alternative to TiO2 as a white pigment in tablet film coating. It shows a comparison of the opacity of conventional Aqua-Polish® white coating (with TiO2) and our new AquaPolish®, formulated without TiO2, after a 100 kg and 300 kg production scale. The opacity measurement according to the CIELAB method resulted in the following values (maximum is L100):
Brown placebo: L65
with TiO2 (100 kg): L97
TiO2 free (100 kg): L95
---
Order your personal sample now: