3D Printing Technologies in Personalized Medicine, Nanomedicines, and Biopharmaceuticals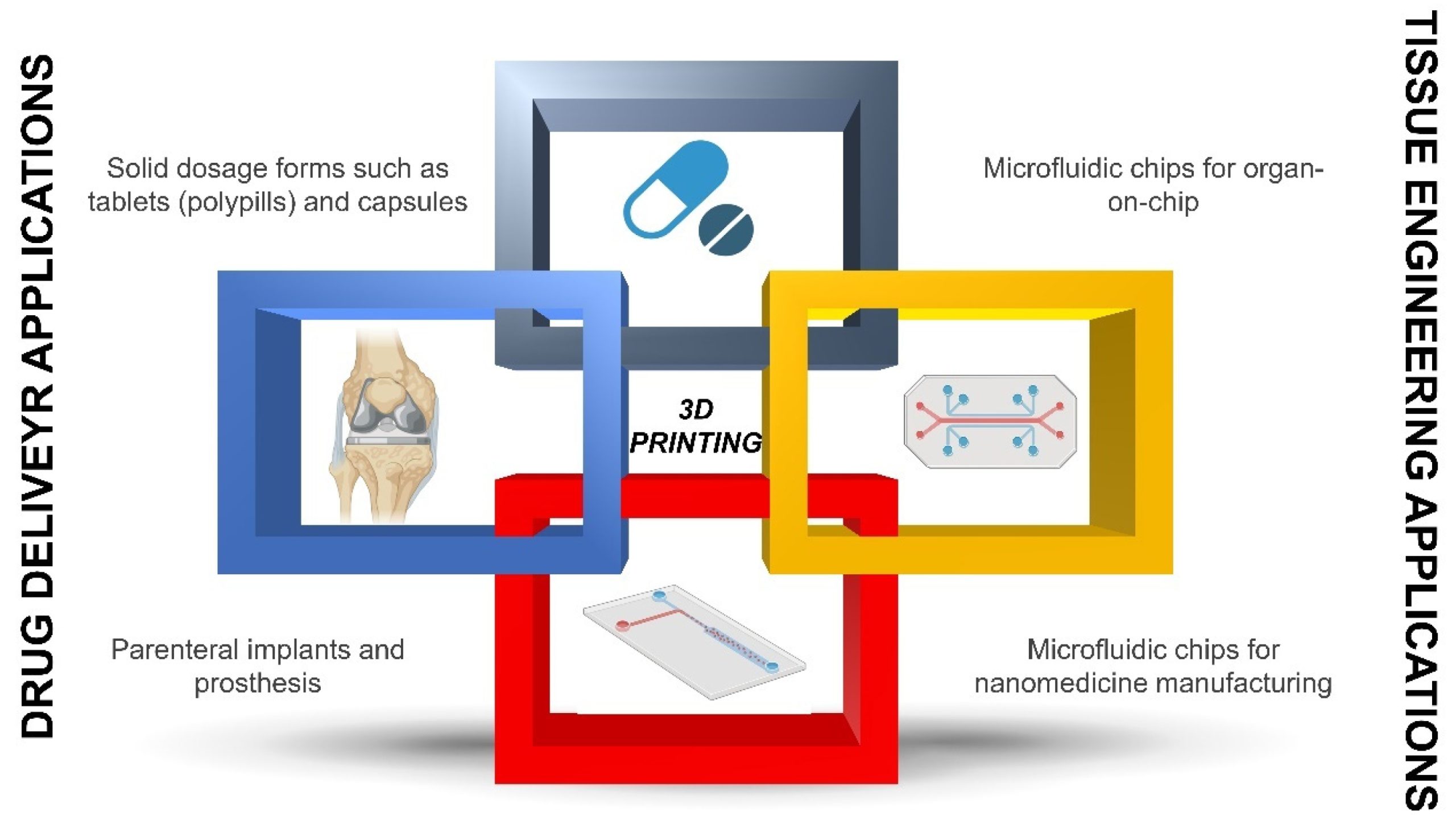 3D printing technologies enable medicine customization adapted to patients' needs. There are several 3D printing techniques available, but majority of dosage forms and medical devices are printed using nozzle-based extrusion, laser-writing systems, and powder binder jetting. 3D printing has been demonstrated for a broad range of applications in development and targeting solid, semi-solid, and locally applied or implanted medicines. 3D-printed solid dosage forms allow the combination of one or more drugs within the same solid dosage form to improve patient compliance, facilitate deglutition, tailor the release profile, or fabricate new medicines for which no dosage form is available. Sustained-release 3D-printed implants, stents, and medical devices have been used mainly for joint replacement therapies, medical prostheses, and cardiovascular applications. Locally applied medicines, such as wound dressing, microneedles, and medicated contact lenses, have also been manufactured using 3D printing techniques.
The challenge is to select the 3D printing technique most suitable for each application and the type of pharmaceutical ink that should be developed that possesses the required physicochemical and biological performance. The integration of biopharmaceuticals and nanotechnology-based drugs along with 3D printing ("nanoprinting") brings printed personalized nanomedicines within the most innovative perspectives for the coming years. Continuous manufacturing through the use of 3D-printed microfluidic chips facilitates their translation into clinical practice.
Download the full article as PDF here: 3D Printing Technologies in Personalized Medicine, Nanomedicines, and Biopharmaceuticals
or read it here
Serrano, D.R.; Kara, A.; Yuste, I.; Luciano, F.C.; Ongoren, B.; Anaya, B.J.; Molina, G.; Diez, L.; Ramirez, B.I.; Ramirez, I.O.; Sánchez-Guirales, S.A.; Fernández-García, R.; Bautista, L.; Ruiz, H.K.; Lalatsa, A. 3D Printing Technologies in Personalized Medicine, Nanomedicines, and Biopharmaceuticals. Pharmaceutics 2023, 15, 313.
https://doi.org/10.3390/pharmaceutics15020313