Integration of 3D printing with dosage forms: A new perspective for modern healthcare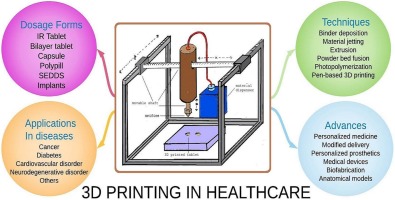 3D printing is an additive manufacturing technique capable of producing various 3D drug products, medical devices, tissues and organs from digital designs. The first FDA approved 3D drug product, Spritam®, has encouraged and attracted many researchers in this field with research undergoing to develop various customized dosage forms. This review aims to introduce 3D printing, its history, advantages, challenges and various techniques used in fabrication of drug products. This review also assesses the advantages and importance of customized dosage forms obtained from 3D printing. It focuses on the applications of 3D printing in various conditions such as cancer, diabetes, cardiovascular disorders, neurodegenerative disease and other diseases employing anatomical models, tissues and organs fabrication and importance of individualized dose. Various regulatory issues, challenges and possible disruptions that 3D printing show impact on healthcare and manufacturing are discussed. Overall, this review on 3D printing technology has described the advancements in manufacturing and the futuristic potential for therapeutic approaches to bring in a vast array of useful applications and benefits to human.
Conclusions
The fascinating range of application potential of 3D printing in healthcare has drawn attention of many researchers and encouraged innovations. 3D printing can increase the quality of deliverable healthcare services, as it is capable of manufacturing personalized products suited for a particular individual. It can print medicine in various shapes, sizes, doses and dosage forms with desired and pre- specified characteristics including drug release profile and FDC. Formulations prepared in individualized manner are likely to increase drug safety and reduce toxicity and various other side effects caused by inappropriate drug dose. Likewise, the ability of 3D printers to fabricate the medicine at point-of-care (PoC) avails a range of therapeutic op- tions, which removes the barrier for healthcare personnel in choosing the best-suited approach. Further, it is capable of producing various medical devices, implants, anatomical models, artificial organs etc. covering a large potential for overall betterment of healthcare services and healthcare education. The first FDA approved drug product de- monstrated the commercial applicability of 3D printed products in August 2015 following which a large number of medical devices have been produced via 3D printing. Therefore, with continuous innovation and developments in 3D printing technique and its applications seems promising to revolutionize healthcare and improve quality of life.