A lipid nanoparticle platform for mRNA delivery through repurposing of cationic amphiphilic drugs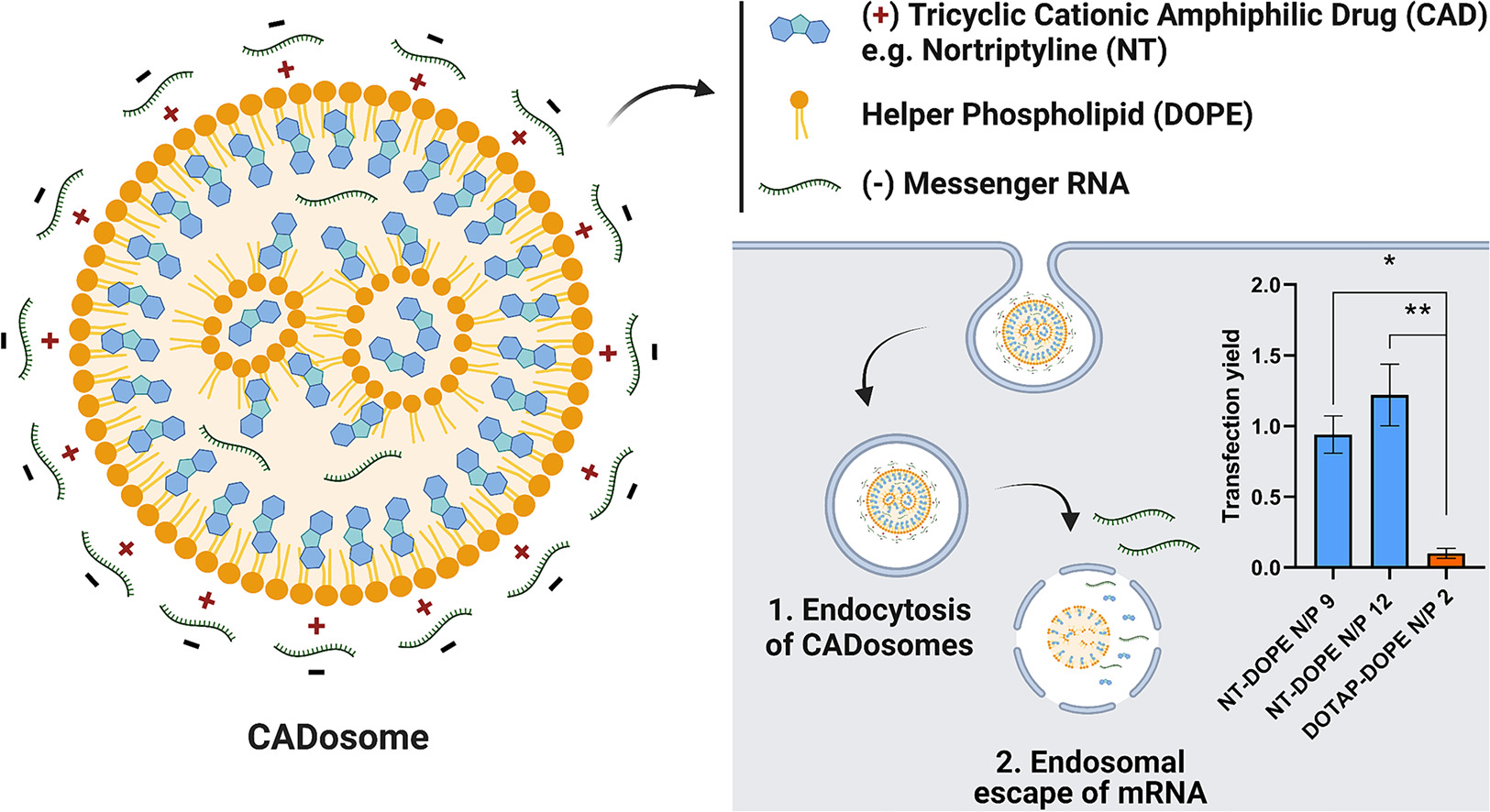 Since the recent clinical approval of siRNA-based drugs and COVID-19 mRNA vaccines, the potential of RNA therapeutics for patient healthcare has become widely accepted. Lipid nanoparticles (LNPs) are currently the most advanced nanocarriers for RNA packaging and delivery. Nevertheless, the intracellular delivery efficiency of state-of-the-art LNPs remains relatively low and safety and immunogenicity concerns with synthetic lipid components persist, altogether rationalizing the exploration of alternative LNP compositions. In addition, there is an interest in exploiting LNP technology for simultaneous encapsulation of small molecule drugs and RNA in a single nanocarrier. Here, we describe how well-known tricyclic cationic amphiphilic drugs (CADs) can be repurposed as both structural and functional components of lipid-based NPs for mRNA formulation, further referred to as CADosomes. We demonstrate that selected CADs, such as tricyclic antidepressants and antihistamines, self-assemble with the widely-used helper lipid DOPE to form cationic lipid vesicles for subsequent mRNA complexation and delivery, without the need for prior lipophilic derivatization. Selected CADosomes enabled efficient mRNA delivery in various in vitro cell models, including easy-to-transfect cancer cells (e.g. human cervical carcinoma HeLa cell line) as well as hard-to-transfect primary cells (e.g. primary bovine corneal epithelial cells), outperforming commercially available cationic liposomes and state-of-the-art LNPs. In addition, using the antidepressant nortriptyline as a model compound, we show that CADs can maintain their pharmacological activity upon CADosome incorporation. Furthermore, in vivo proof-of-concept was obtained, demonstrating CADosome-mediated mRNA delivery in the corneal epithelial cells of rabbit eyes, which could pave the way for future applications in ophthalmology. Based on our results, the co-formulation of CADs, helper lipids and mRNA into lipid-based nanocarriers is proposed as a versatile and straightforward approach for the rational development of drug combination therapies.
Bram Bogaert, Félix Sauvage, Roberta Guagliardo, Cristina Muntean, Van Phuc Nguyen, Eline Pottie, Mike Wels, An-Katrien Minnaert, Riet De Rycke, Qiangbing Yang, Dan Peer, Niek Sanders, Katrien Remaut, Yannis M. Paulus, Christophe Stove, Stefaan C. De Smedt, Koen Raemdonck, A lipid nanoparticle platform for mRNA delivery through repurposing of cationic amphiphilic drugs, Journal of Controlled Release, Volume 350, 2022, Pages 256-270, ISSN 0168-3659, https://doi.org/10.1016/j.jconrel.2022.08.009.