Overcoming Excipient Risks and Challenges for Parenteral Formulations – Merck article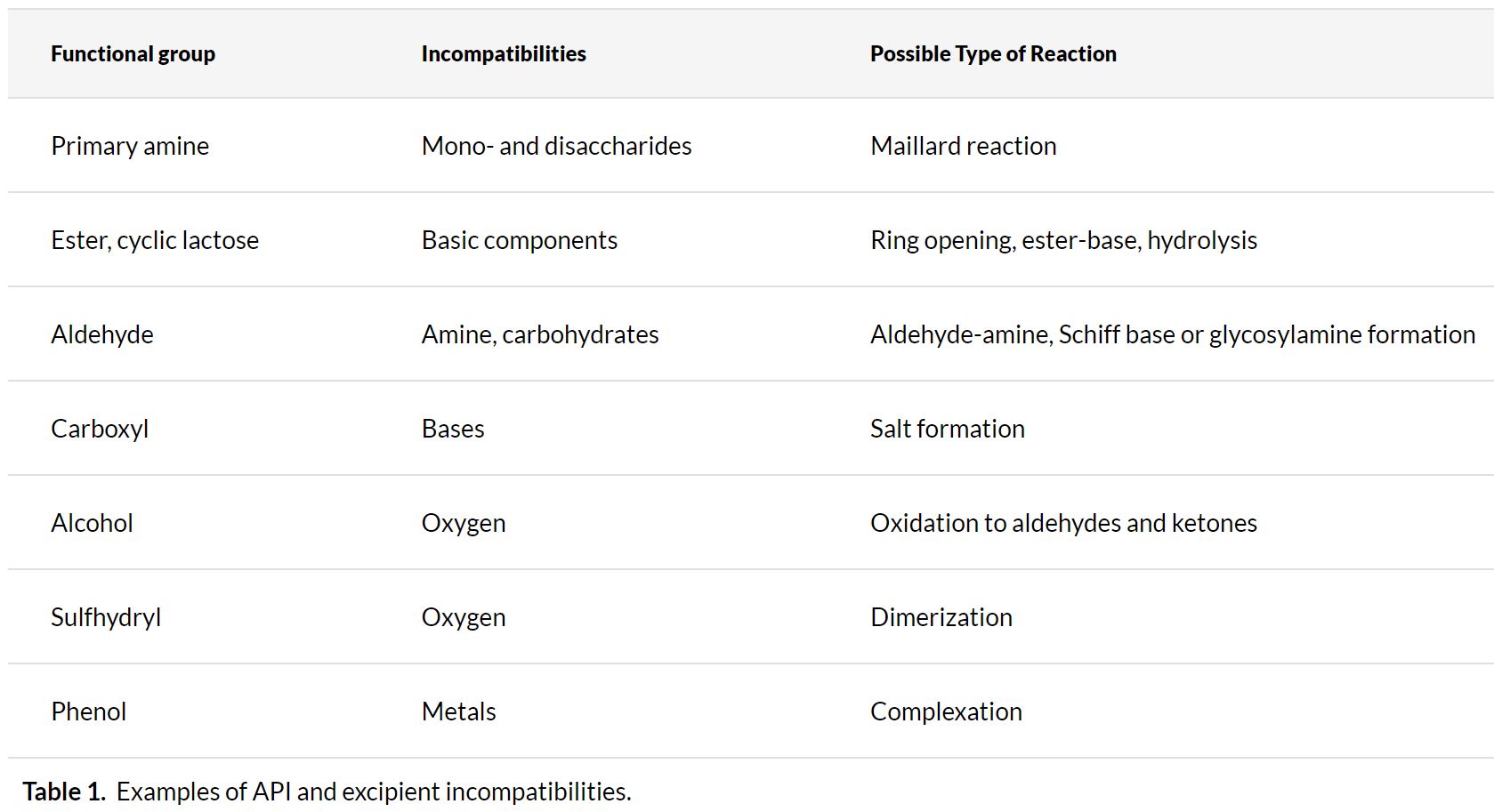 ATTRIBUTES OF EXCIPIENTS FOR HIGH-RISK FORMULATIONS
Excipients play an important role in parenteral formulations, which are high-risk given their route of administration. They protect, support, and enhance stability and bioavailability, modulate release of the API, and can enhance effectiveness of the drug.
As with any dosage form, excipient selection for parenteral applications should be based on the specific, targeted, and expected function. Critical material attributes (CMA) of the excipient must be considered as this may have a direct impact on the critical quality attributes (CQA) of the drug product. It is especially important that excipients be inert with low bioburden and low endotoxin for parenteral dosage forms as even trace amounts of impurities can interact with the active pharmaceutical ingredient (API) or other excipients. This ensures that API levels in the final formulation are not impacted, the API remains stable, and generation of reaction products with potential health hazards is prevented. Endotoxin and bioburden level control is also important to avoid any impact on the formulation and formulation stability and to reduce any direct risk to the patient.
Excipients should be unaffected by the sterilization or manufacturing process and be manufactured according to appropriate GMP, such as International Pharmaceutical Excipient Council and Pharmaceutical Quality Group Good Manufacturing Practices (IPEC-PQG GMP).
Several excipient categories are routinely used in parenteral applications including:
Preservatives
Buffers
Tonicity adjusters
Stabilizers
Viscosity modifiers
Antioxidants
Solubilizers
DEVELOPMENT CHALLENGES FOR HIGH-RISK FORMULATIONS
There are many development challenges for parenteral formulations including:
Particulate matter
Microbial purity
No interaction with API
Solubility enhancement
Trace amount of impurities
Stability
Process optimization
Each of these challenges is described in greater detail below.
Particulate Matter
Of the sterile injectable drugs recalled by the United States Food and Drug Administration (FDA) between 2008 and 2012, 22% were due to the presence of visible particles.1 Root causes range from the API and excipients, to water, equipment, container closures, and crystallization of the drug itself.
Several strategies can be employed to mitigate the risk of particulate matter from excipients including manufacturing according to IPEC-PQG GMP guidelines in an environment that ensures low bioburden and appropriate use of quality control procedures. Paper-free packaging should be used to eliminate the possibility of particulate matter resulting from the paper.
In the case where particulate matter is unavoidable in an excipient, details should be provided by the supplier in the form of a technically unavoidable particle profile (TUPP).
Microbial Purity
Bioburden and endotoxin limits are defined for high-risk applications. Since excipients can introduce bioburden and endotoxin contaminations to the process and product, excipient suppliers must control the levels of impurities and provide the relevant information on the levels to the drug manufacturer. Our Emprove® Expert portfolio offers a range of excipients intended specifically for high-risk applications and feature low specified bioburden and endotoxin levels. The information is readily available in the relevant product specifications and Emprove® Dossier.
While they are not allowed in large-volume parenterals such as infusions or restricted in use for single-dose injections, a range of preservatives can be included in small-volume multi-dose containers to ensure sterility. Common preservatives are effective in a range of different pH values as shown in Figure 1.
Download the article as PDF here: Overcoming Excipient Risks and Challenges for Parenteral Formulations
or read it here
Source: Merck, Overcoming Excipient Risks and Challenges for Parenteral Formulations
---
Read more about Excipients for Parenterals here