Nanosystems for Brain Targeting of Antipsychotic Drugs: An Update on the Most Promising Nanocarriers for Increased Bioavailability and Therapeutic Efficacy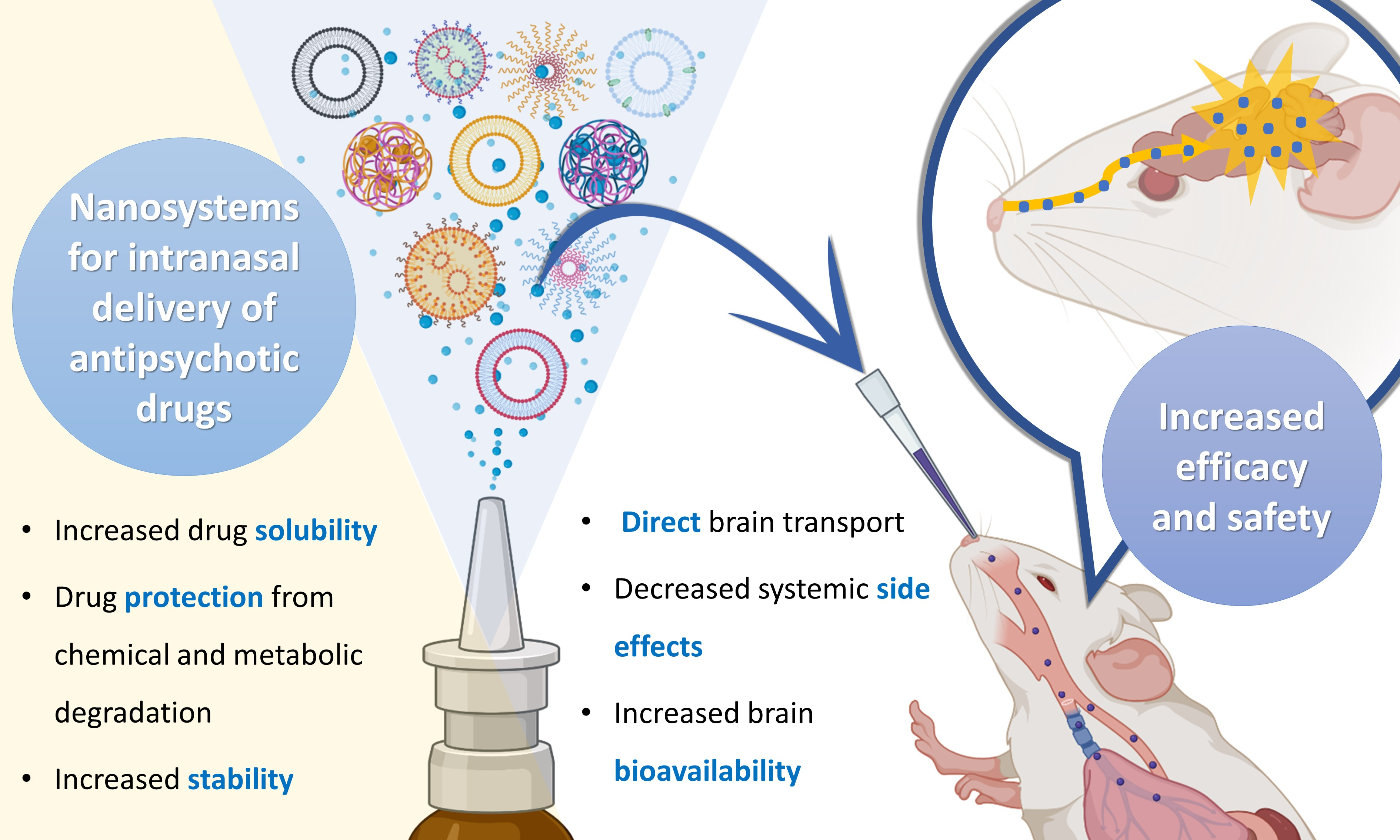 Orally administered antipsychotic drugs are the first-line treatment for psychotic disorders, such as schizophrenia and bipolar disorder. Nevertheless, adverse drug reactions jeopardize clinical outcomes, resulting in patient non-compliance. The design formulation strategies for enhancing brain drug delivery has been a major challenge, mainly due to the restrictive properties of the blood–brain barrier. However, recent pharmacokinetic and pharmacodynamic in vivo assays confirmed the advantage of the intranasal route when compared to oral and intravenous administration, as it allows direct nose-to-brain drug transport via neuronal pathways, reducing systemic side effects and maximizing therapeutic outcomes.
In addition, the incorporation of antipsychotic drugs into nanosystems such as polymeric nanoparticles, polymeric mixed micelles, solid lipid nanoparticles, nanostructured lipid carriers, nanoemulsions, nanoemulgels, nanosuspensions, niosomes and spanlastics, has proven to be quite promising. The developed nanosystems, having a small and homogeneous particle size (ideal for nose-to-brain delivery), high encapsulation efficiency and good stability, resulted in improved brain bioavailability and therapeutic-like effects in animal models.
Hence, although it is essential to continue research in this field, the intranasal delivery of nanosystems for the treatment of schizophrenia, bipolar disorder and other related disorders has proven to be quite promising, opening a path for future therapies with higher efficacy.
Download the full article as PDF here Nanosystems for Brain Targeting of Antipsychotic Drugs: An Update on the Most Promising Nanocarriers for Increased Bioavailability and Therapeutic Efficacy
or read it here
Ferreira, M.D.; Duarte, J.; Veiga, F.; Paiva-Santos, A.C.; Pires, P.C. Nanosystems for Brain Targeting of Antipsychotic Drugs: An Update on the Most Promising Nanocarriers for Increased Bioavailability and Therapeutic Efficacy. Pharmaceutics 2023, 15, 678. https://doi.org/10.3390/pharmaceutics15020678