Oil adsorption with Fuji excipients
Fuji Chemical Industries specializes in producing porous spray-dried excipients for the pharmaceutical and nutraceutical markets. We spray-dry our excipients to produce free-flowing granules and unique internal structures that enhance compressibility and functionality. Our products are ideal when it comes to the adsorption of liquids (including oily APIs) with improved flowability and superior tabletability.
Products
---
Key Features
High API loading
Directly compressible
Spherical particles with high flowability
Tablet hardness of more than 50 N
No special equipment needed for tableting
---
Excipients with Different Chemistries
Fuji excipients have a number of different chemistries as shown in the table on the right. Excipients also differ in terms of porosity which allows for different oil loading quantities. Choosing the best excipient for your application depends on regulatory factors, application types, chemical compatibility and stabilization benefits.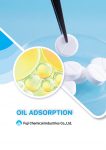 Read the full oil adsorption brochure here!
---
Sample Request