Gastroretentive Sustained-Release Tablets Combined with a Solid Self-Micro-Emulsifying Drug Delivery System Adsorbed onto Fujicalin®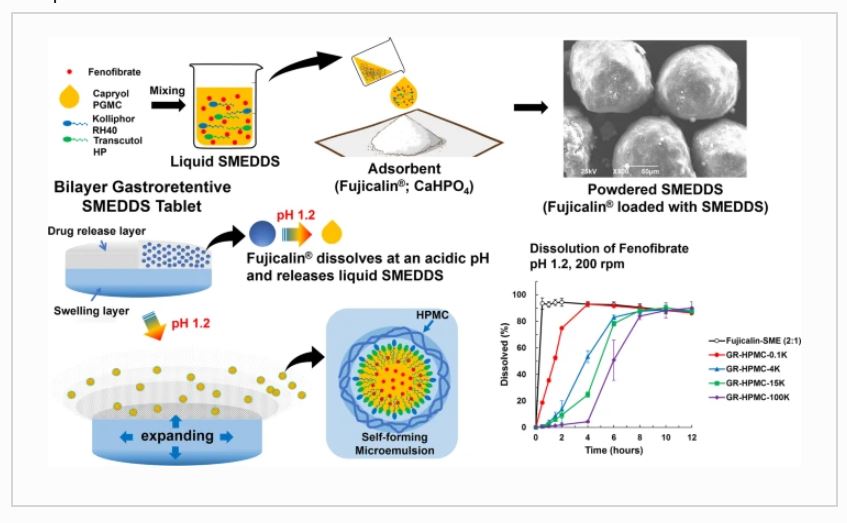 Gastroretentive drug delivery systems (GRDDS) get retained in the stomach for a long time, thus facilitating the absorption of drugs in the upper gastrointestinal tract. However, drugs that are difficult to dissolve or unstable in an acidic environment are not suitable for GRDDS. The current study designs GRDDS combined with a self-micro-emulsifying drug delivery system (SMEDDS) for drugs with solubility or stability problems in the stomach. The model drug fenofibrate was formulated into the optimized liquid SMEDDS composed of 50 w/w% Capryol® PGMC, 40 w/w% Kolliphor® RH40, and 10 w/w% Transcutol® HP and solidified through adsorption on several porous adsorbents. In a dissolution medium at pH 1.2, the powdered SMEDDS using Fujicalin® dissolved quickly and achieved higher drug dissolution than other adsorbents.
Based on these results, a gastroretentive bilayer tablet consisting of a drug release layer and a swelling layer was designed. The drug release layer was formulated with the powdered SMEDDS and hydroxypropyl methylcellulose (HPMC) as a release modifier. HPMC was also added to the swelling layer as a water-swellable polymer. The dissolution rate depended on the viscosity of the HPMC in the drug release layer. The time for 90% drug release was extended from 3.7 to 12.0 h by increasing the viscosity grade of HPMC from 0.1 to 100 K. Moreover, the tablet swelled and maintained a size comparable to a human pylorus diameter or more for at least 24 h. This GRDDS could apply to a broader range of drug candidates.
Omachi, Y. Gastroretentive Sustained-Release Tablets Combined with a Solid Self-Micro-Emulsifying Drug Delivery System Adsorbed onto Fujicalin®. AAPS PharmSciTech 23, 157 (2022). https://doi.org/10.1208/s12249-022-02311-y
---
See also our interview with Fuji Chemical experts on oil adsorption: